In my opinion, there's no better treat than chocolate.  Chocolate is a great way to say thank you, I love you, or Congratulations!  It is an all purpose treat.  So what better grand finale to a scholastic career than a gift of chocolate Graduation Cap Pops? The best part of these pops is that they are so much easier than they look.  Simple and quick – now that's something to celebrate.  Let's get started!
Materials:
Hershey's Bars
M&M's or Jelly Beans
Lollipop Sticks
String Licorice
Peanut Butter Cups
1/2 Styrofoam Ball
The budget is about $9 for 25 pops or 36 cents each (this includes the display).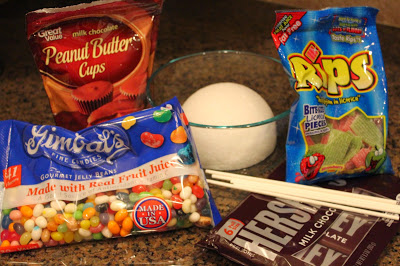 How-To:
Begin by preparing your ingredients.  Cut the chocolate bars into sections of two and lay out the sticks.  Fill the container you want to use for display either with jelly beans or M&M's – pour them on top of the styrofoam 1/2 ball to fill the space and add color.  Separate the pieces of licorice into sections to form the tassel of the cap.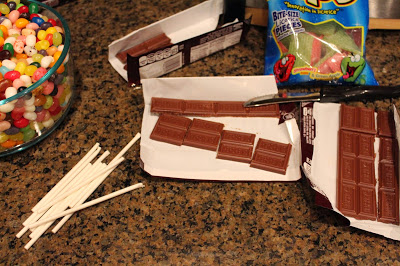 Once the ingredients are prepared, insert one lollipop stick or skewer stick into each peanut butter cup and set on a work space of wax or parchment paper.  Place the extra pieces of chocolate (Hershey's Bars come in rows of 3 pieces – you only need whole pieces of 2 so you will have 1 piece left from each row) into a glass container for melting
Melt the extra pieces either on the stove or in the microwave.  The microwave works great.  Dip the bottom of the peanut butter cup into the chocolate and immediately place the printed (Hershey's) side of the chocolate square onto the melted chocolate to form the cap.  Repeat this process until all the caps are made.  Place them back onto the parchment paper to set.
Once the pop is set, dab a bit of the melted chocolate onto the center of the top of the hat.  Affix the tassel of the cap by placing one end of the string of licorice into the melted chocolate.  This will quickly set and hold the tassel/licorice on the top of the cap.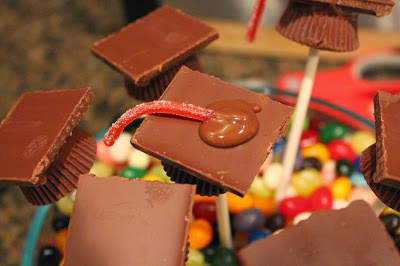 Presto – Graduation Cap Pops.  I was able to make these from start to finish in about 20 minutes.  Displaying them in candy for added color really makes them stand out.
Congratulations Graduates!!