Valentine's Day is synonymous with roses, chocolate, and wine. Using left over wine bottles as vases or decorative elements goes along with the romantic and festive nature of the holiday – plus it's a great reason to drink the wine! Today's project uses left over wine bottles to make adorable Valentine's gifts for friends or a love themed centerpiece for dinner with your someone special for less than $4 total. This Wine Bottle DIY project is a fast and simple idea that is perfect for the holiday – Spread a little love for less this Valentine's Day!

Begin by cleaning the wine bottles. Tip: Remove the labels easily by adding 1 cup baking soda and some dish detergent to the kitchen sink full of HOT water. Allow the bottles to soak for 20 minutes or so and the labels literally peel off with no problem.
Materials:
4 Wine Bottles (or more depending on what you'd like)
Red or Pink Spray Paint – $3
1 Small White Acrylic Paint – 50 cents
Paint Brush
Stencil (unless you want to letter yourself)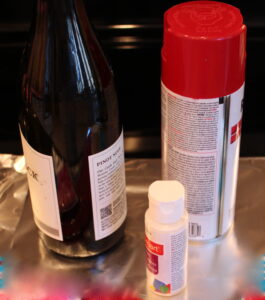 How To:
Begin by spray painting the bottles and allowing the paint to dry. I painted two coats because I wanted the bottles to be extra shiny. You may use any color combination you want so you could choose pink, white, red, silver, gold – the color scheme is entirely up to you.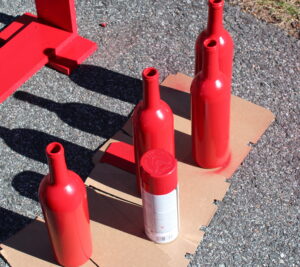 Once the bottles are dry, stencil them with the white acrylic paint. I chose the word LOVE and painted hearts. Choose any word or name you'd like and also any stencil or pattern with the hearts and/or decoration.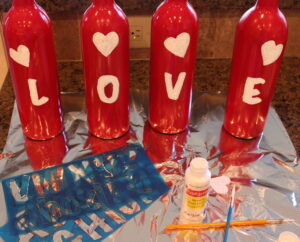 The final Wine Bottle DIY product can also be displayed in any way you want. The bottles may be used for flowers or decorative sticks or arranging them by themselves along a table for the centerpiece. Happy Valentine's Day!