Easter is in five minutes and spring is here.  I'm done with the drab colors of winter and being a prisoner inside. A simple way to banish the winter doldrums is to add color and brighten a room by switching table decor.  This Spring Table Decor transitions well into summer and you can customize it any way you'd like so it's a one and done.  The cost investment is minimal and you may be as creative (or not) as you'd like!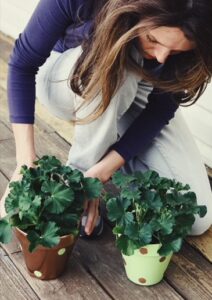 Today we're making mats that can be place mats or centerpieces AND customizing pots to go on them or by themselves on the table.
Materials – For the Mats:
Heavy artists canvas (in place mat size)
Hot or regular glue
Landscaping stone
Spray Paint
How-To:
To begin with the canvas, you may choose to paint it or not.  I chose darker stones so I decided to rough paint my canvas dark brown so you don't see extra space.  If you're painting the entire mat once the stones are glued down, then don't worry about painting first.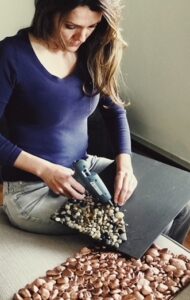 Glue stones on the mat until the canvas is full. I used my lap for a work table.
One of the mats I painted and one I left natural.  Both looks are attractive.  It was hard to decide a favorite look – it just depends on your decor and what will match best in your home.
Materials for the Pots:
Spray Paint
Scissors
Clay Pots
Office Dots
Painters Tape
How-To:
I decided to prime the pots in opposing colors and then put office dots on them prior to my final color.   I then painted them the final color once the base coat was dry.  After the dots were removed and the pot was dry it was a great color contrast on the pots.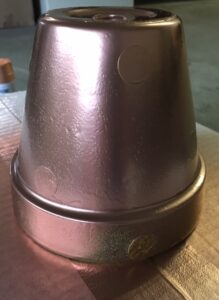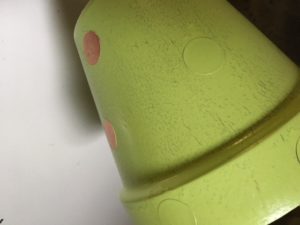 I also cut painters tape into different shapes.  I used the same priming technique as above for color contrast.  Once the paint is dry, remove the tape and the design shows well.
The final cost is about $7 for the mats and $5 for the pots with the cost of the plants included.  This Spring Table Decor makes an easy and inexpensive update to get ready for a new season!