Thanksgiving is almost here.  Your list is a mile long and only the top two things are checked off – right?  I know, I'm there too.  Ain't nobody got time to feel sorry for themselves though, keep your head down and you've got this.  Next to the turkey the focus of the Thanksgiving table is usually the table itself.  The decorations, the color, the centerpiece, and the dishes all play a part in your meal.  If you're stumped for ideas and need one in a hurry, don't worry, Effortless Girl has you covered.  Use ingredients that you're probably going to use anyway (cranberries+bowls) to create Quick Thanksgiving Centerpieces in seconds, literally.  In fact, this centerpiece works for Thanksgiving or Christmas – so it can do double duty.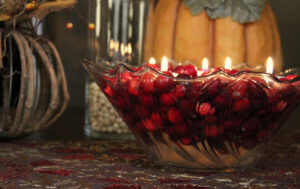 Materials:
Clear glass bowl
Tea light candles
One bag of cranberries per centerpiece.  
I think it would be stunning to make 3 of these bowls and place down the center of a long table.  I paid $ 1.49 per bag for the cranberries at the supermarket and the tea light candles cost about 20 cents each.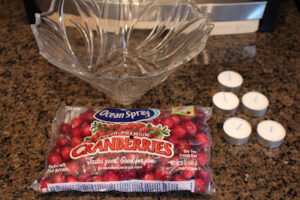 How-To:
Pour one bag on cranberries into a glass bowl.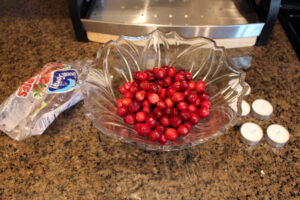 Add enough water to the bowl so that the cranberries rise to just below the top edge.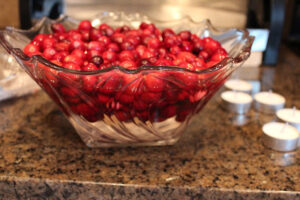 After the water is added, place the candles in the bowl.  Press them gently into the cranberries to the top of the candle is level with the top of the cranberries and light the candles.  The effect is beautiful!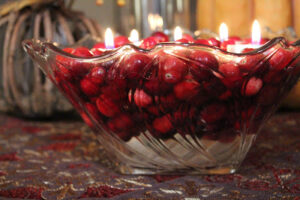 The entire project from start to finish takes less than one minute per bowl.  Simple and elegant – Happy Thanksgiving!
#thanksgiving  #happythanksgiving #thanksgiving2015 #decor #diy