I've eaten more sugar in the last 10 days than I should probably eat in an entire year.  It seems like each day of the holiday season a tempting and delicious goodie is placed in front of me and I have to eat it.  I feel gross and have absolutely zero will power.  But that's what New Year's resolutions are for right?  So not to break my streak of junk food, my friend Lyndsey is back today with her favorite holiday go-to…..Easy Mint Chocolate Dot Cookies.  They're delicious and you need to try them.
To me, a big part of the Christmas season is baking cookies. I love to bake them with my family and give them out as gifts! I will bake anything from sugar cookies to decorate, to chocolate chip cookies, to fudge and chocolates – and anything in between! My most favorite are Mint Chocolate Dot Cookies!
Ingredients:
Yields: 4-5 dozen cookies
The Mints
1 bag peppermint kisses
Sprinkles
Candle
The Cookies
3/4 cup butter   (Effortless Girl prefers Challenge Brand because it's the best, it really is.)
1 1/2 c brown sugar
2 tbsp water
2 c chocolate chips
2 eggs
2 1/2 c flour
1 1/4 tsp baking powder
1/2 tsp salt
How To:
First make the mints.  I use peppermint Hershey's kisses.  Unwrap them first and light a candle to melt the bottoms. 
Then dip the soft end of the kiss in sprinkles.
After they are cool  put them in the freezer until they're needed.  Before you freeze them, make sure you taste test the yummy gooey mints!  Now you're ready to make the dough.
Combine the dry ingredients and set aside.  Melt butter, brown sugar, and water in a pan over low heat.  Add chocolate chips until melted.  Pour chocolate mixture into the mixer bowl and cool 10 min.  
Break eggs into the mix and blend lightly.  Add the dry ingredients into the mixer and blend ingredients until fully combined.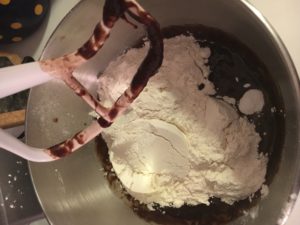 Chill dough in freezer for 1 hour. (I keep the mints and the dough in the freezer unless I am working with them. The firmer the dough, the easier to roll into balls.)
Line cookie sheet with aluminum foil.  Roll dough into balls and place 2″ apart.  They do not expand very much, so you can fit 16-20 cookies on a tray.
Bake at 350 for 10 minutes until the cookies start to crack on the top. Immediately top with your mints (put the Hershey kiss upside down so the sprinkles are on top).  Allow the cookies to sit on the cookie sheets a few minutes before moving to cooling racks to cool completely.
Enjoy with a big glass of milk or hot chocolate – and don't forget to leave a few for Santa.  Merry Christmas!