Hyacinths are perfect for Easter and/or a great stuck at home project – and DIY Paper Flowers are a fun gift to give and make.  They're an easy project for all ages and a low cost, creative option for a gift for mom.  Each flower costs roughly fifty cents and takes about five minutes to craft.  I used spray painted wine bottles for vases for an extra unique touch.  Spray paint them with pastel colors that contrast the paper hyacinths and the display is perfect for a centerpiece.  Let's go!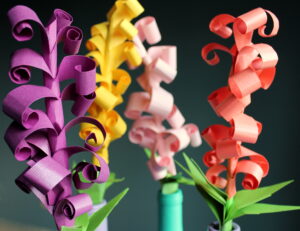 Materials:
Card stock or construction paper
Green Marker
Kabob Skewers
Scissors
Hot or regular glue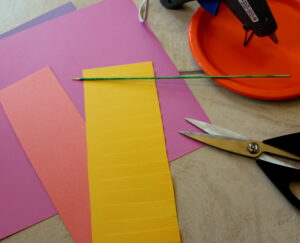 How-To:
Begin by cutting the paper into strips that are 3-4 inches wide.  Prep the kabob skewers by coloring them quickly with a green marker for the flower stem.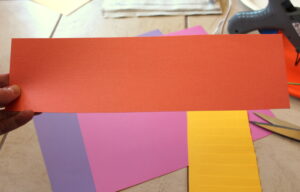 Cut those strips into piano key strips.  They should be 1/2″ wide or so.  Leave about one inch at the end of your cut so the paper strip stays intact.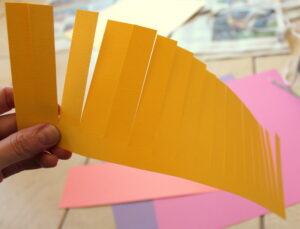 Roll each cut strip toward the edge of the paper.  Roll every strip.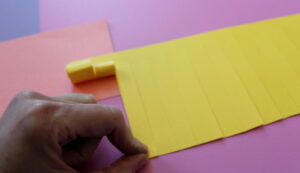 Wrap the cut strip around the green skewer.  Start at one end and affix the paper to the skewer with a dab of glue.  Hot glue dries faster but use with caution because you'll be handling the paper you just hot glued, I actually burned several of my fingers.  Wrap the paper layering it on top of the paper edge prior so there's no green skewer showing through.  Once you're at the end of the paper use another dab of glue to affix the paper to the skewer.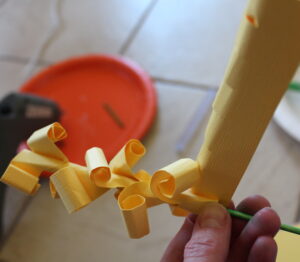 Display the hyacinths once they're completely dry.  Voila – DIY Paper Flowers!