Today's project is simple and perfect for summer – DIY Paint Stamping!  This paint stamping technique creates beautiful artwork, cloth napkins, or tea towels – actually you could use it on all sorts of surfaces.  It makes unique items to use in your home decor but you could also make an excellent hostess or housewarming gift since we are in the center of wedding  and shower season.  The time commitment is little and the cost is minimal.  We will be decorating cloth napkins and towels using citrus fruit paint stamps- it's unique and adorable.  Let's do some DIY Paint Stamping – with summer citrus fruit!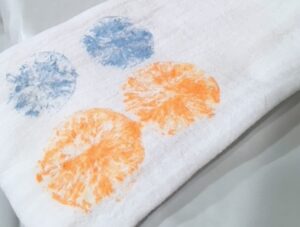 Materials:
Tubes of Paint (50 cents at discount stores)
Cloth Napkins (I paid $1.97 for 2 napkins) — Iron them if they need it.
Flour Sack Towels ($4 for 5 towels)
Placemats ($1 each)
Lemons and Limes – Oranges if you want
Sponge paint brushes
Small Paper plates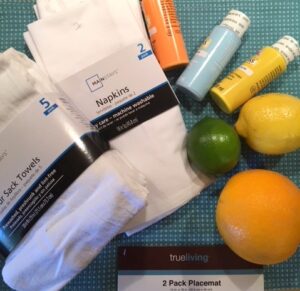 How-To:
Begin by cutting the lemons, limes, and oranges in half.  Allow to sit on a plate if it drips.  Before using the paint on it, dab a paper towel on the cut half to absorb any juice.  It's great to use a mix of fruits because of the size variation and also the inside pattern is just enough different for visual interest.  Ultimately, limes look and work best.  Their size is manageable and you can do clusters of stamps without the size being too large.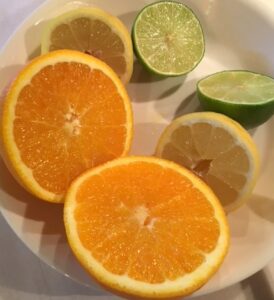 Create your work area.  I tore a piece of parchment paper so I could have a clean, white surface for working.  If I spilled paint, it wouldn't matter on the parchment paper.  I poured a couple of tablespoons of paint into the paper plates to begin.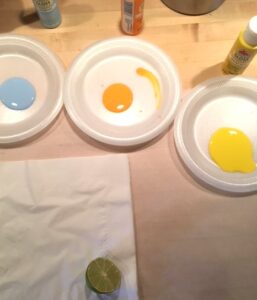 You may apply the paint two ways.  You could dip the citrus directly into the paint as I did in the photo.  This gives a very heavy stamp – which isn't bad if that is your preference.  My preference after a couple of stamps was to use the sponge paint brush to lightly dab the paint onto the citrus fruit half – and then stamp onto cloth.  I liked this look better but pick the one you like best.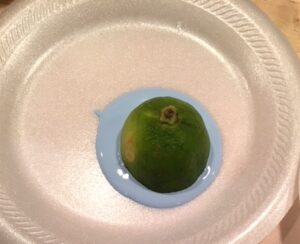 Once the paint is applied, press the citrus half on your napkin or towel.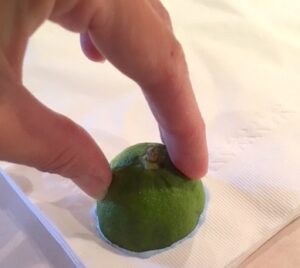 Allow the paint to dry for several hours.  You can create all sorts of patterns using different colors and fruits.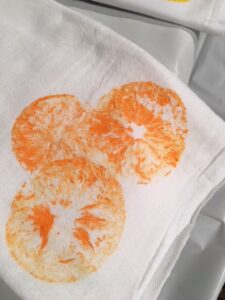 The project from start to finish….DIY Paint Stamping!