I decided to try DIY Mercury Glass on some old vases that I thought about giving away.  I'll admit that this trend looks great in the history books and on home design store shelves so I was a tad intimidated about how this would work for me.  It was SO much easier than I'd anticipated and the vases turned out beautifully.  I even performed the DIY Mercury Glass demo on WCCB Rising for an Effortless Girl segment.  The result was super cool and the cost investment is not so much.  Let's Go!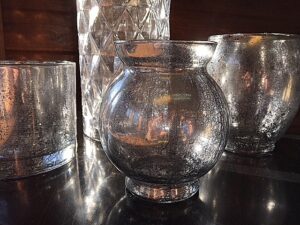 You'll need about $15 plus your vase/lamp/bowl for this idea.  I made a mix of vases I had plus dollar store finds to create my mercury glass.  Use what you have.  The other items may be purchased at any hardware store or building supply.
Materials:
Looking Glass Spray
White Vinegar
Spray Bottle
Paper Towels
Water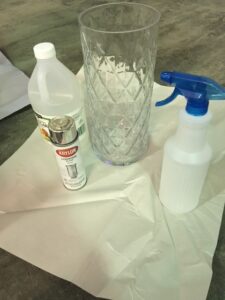 How-To:
IN A WELL VENTILATED AREA (this is big and I also wore gloves!) spread some old paper or plastic down to protect your work space.  Mix half parts water and white vinegar in the spray bottle.  (Tip: The vinegar mixture may also be used as a non-toxic glass cleaner and also used to deodorize the kitchen garbage disposal).  Make sure your glass is free of dust and dirt.  Mist a light coat of the vinegar and water mixture on the surface of the glass and then spray a light coat of looking glass spray on the vinegar water mist.
Work in sections around the outside of the glass.  I DIY-ed the outside.  Yes, some techniques do the inside of items but the effect is the antique look so a scratch here and there is okay with me.  Plus, how tedious is it to mist and paint the inside of a glass vase?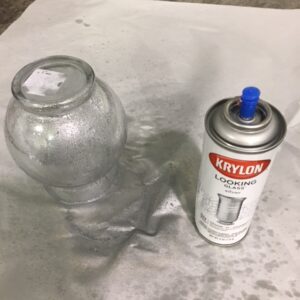 Allow this coat of paint to dry for less than one minute and blot dry the water/vinegar drops with a paper towel.  That's it – that's the technique.  Repeat again for 3-5 coats depending on how antiqued you want your items to look.  The mercury glass effect becomes evident after the very first coat so you'll be able to judge easily the level of spraying you like.
Let dry for a few hours and you're ready to decorate!