My friend Lyndsey is my DIY spirit animal.  I knew this because I saw some of her projects before we met.  She is so creative I sometimes feel like a DIY poser next to her.  Luckily (for you) she agreed to do a couple of projects before the holidays and the how-to's.  She just throws this stuff together and that might make me kind of hate her for her ability, but she's such a precious and thoughtful person that you just can't…….So I give you Lyndsey and her DIY Holiday Door Decor!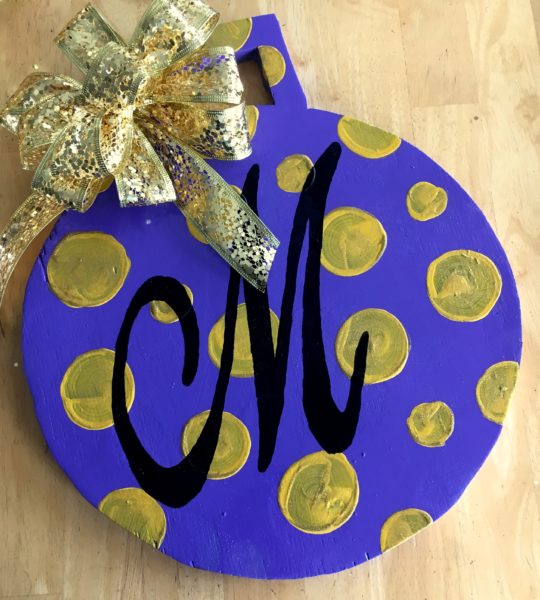 I love Christmas – everything about it….the people, the meaning, the food, and the decorations! In our house the decorations go up as early as my husband will let me put them up and everything is purple and gold. That being said, it is hard to find purple and gold decorations besides a few ornaments; plus the ones you can find are so expensive. So, I decided to make my own door hang.
You'll Need:
Poster board
Piece of old wood
Sandpaper
Paint and/or spray paint
Tissue paper
Print out letter for Monogram
Paint pens
Ribbons
Super glue
How-To:
I traced the ornament shape onto a piece of poster board (the size of the circle you want yours to be plus a handle) cut it out, then traced it onto an old piece of MDF.  I had my dad cut it out using a jigsaw for me, because isn't that what dads are for?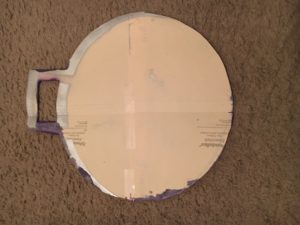 I sanded it down to help make the edges smooth and then spray painted the background purple and waited for it to dry completely.
You may decorate your ornament however you see fit. The possibilities are endless -chevron, stripes, solid colors, or my favorite polka dots! I free handed mine with a foam brush.  Apply paint on the brush and rotate it into different size circles.  I love a little glitter, so once the gold circles dried I added a layer of gold glitter paint on top of my circles.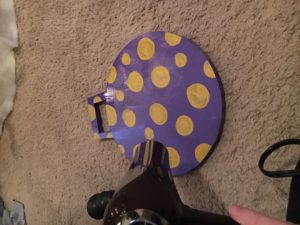 You could easily stop there add a bow and hang it up.  However, every southern gal needs a monogram! I printed out the letter of our last name and then traced it onto a piece of tissue paper using a pencil.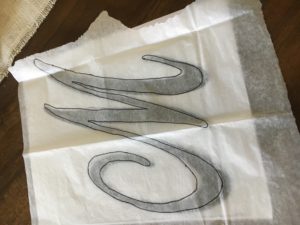 Then I placed the tissue paper on the ornament and traced it using a sharpie marker. This leaves an outline on my ornament that I can fill in with another color.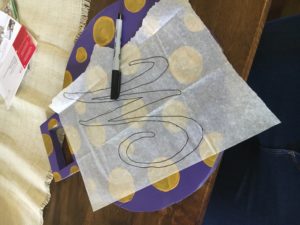 My outline wasn't the boldest outline, but it gave enough detail so I could fill it in. I ended up using a black paint pen from Walmart and it was so easy to fill in my "M".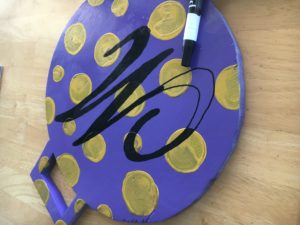 Make sure everything is dry and spray a layer of sealer on it to protect from the weather elements! Put on a bow if you like and use a regular wreath hook to hang it up on your door!
I made a bow using glitter gold ribbon. I am a terrible bow maker, so I googled how to make a bow. An alternative is just to buy the bows they have around the Christmas season. I glued it to the top of my ornament using super glue.
I had most of these materials at home, the only thing I had to purchase was the paint pen and the ribbon I wanted for my bow. My dad had the piece of wood at his house which would probably be your most expensive item. Even if you had to buy the materials, this door hang is WAY cheaper than the wreaths you find at the craft store. I hope you enjoy!